Moving is one of the most stressful events a person has to go through at some point of life. The fact that you need to change your environment and move everything you own is overwhelming. You will be stressed out even if you need to pick up something from a st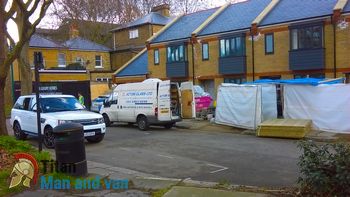 ore, something valuable and extremely important a regular courier cannot do. However, finding the right man and van moving firm in Gunnersbury W4 will take the stress of your shoulders.
Luckily, we are here to provide you with the service you need and expect. An efficient man and van will help you with your commercial and domestic removal, furniture removal, storage, pickups and deliveries, rubbish removal and other. We are a local man and van company in Gunnersbury, and we will explain the benefits of hiring a local instead or a large commercial moving firm.
it is economical
our staff knows the city in and out
less complications
affordability
reliability
A full service
When it comes to relocating or removal, perhaps you haven't taken everything into consideration. You need to hire a van, think about gas costs, time and energy needed for packing, loading, heavy lifting, etc. However, choosing the right man and van, you can let us take care of every moving task, saving you both time and money, not to mention helping you avoid injuries and unwanted situations. Forget DIY removal, because we provide a full service including planning, packing, loading, unloading, furniture dismantling, storage and other. Our staff will provide you with any additional information you need.
No job is too big or too small for us
We are here to serve you and guarantee your satisfaction. Whether you need to move few boxes to another address, or you need a full household removal, we are here for you. In case of an emergency removal of your house or office, you can count on us. For any deliveries and pickups, call us. We have a fleet of modern vans including Luton vans, transit vans and other. Our movers and drivers are trained and experienced so rest assured they will do their job in a professional and efficient way. We have the right moving equipment and tools for safe removals. Get your free quote today!
Fairly priced van hire in Gunnersbury W4
Not that we want to brag but we have the most competitively priced van hire service in W4 Gunnersbury. Even if you need to hire one of our biggest moving trucks, you will still enjoy budget-conscious prices. That is all due to our clear pricing policy and to our efforts to provide customers with highly efficient van hire in W4. Since our modern vehicles are well-equipped, you will not need to spend money on moving tools.
Gunnersbury, situated in the London Borough of Hounslow, consists of pre-war housing. The main landmark of this interesting town is an 18-storey high British Standards Institution building. It is connected with Gunnersbury station. There is a nature reserve Gunnersbury Triangle, where you can find many species of plants, birds and other animals. Since 1886, the area has its own parish church, which was demolished just to be united with that of St Paul's, Brentford.
Gunnersbury is an area set close to Chiswick, Mortlake, Acton, Brentford and Kew. Also, nearby is Gunnersbury Park which used to belong to the Rothschild family. These days, however, it is open to the public and it features a mansion-museum known as Gunnersbury Park Museum which welcomed its first visitors back in 1929. Some of the most notable buildings in W4 are the Russian Orthodox Church Abroad and a mock temple set in Gunnersbury Park.