There is no doubt that you can handle your upcoming domestic removal on your own but the job will get done much quicker if you opt to use our perfectly tailored man and van services. We are experienced and fully insured movers and we can easily handle relocations of any magnitude and timetable. After all it is by a fluke that we are one of the leading removal firms in London.
We want to make your move easy and smooth
We established our company several years ago with the sole purpose of providing customers in the capitol with top quality moving services at affordable prices. Today, we can proudly say that we have attained our goal as we have become one of the most praised and sought after man and van contractors in the city and more importantly because we have a large pool of loyal customers who always seek our assistance when they are facing a house relocation in London.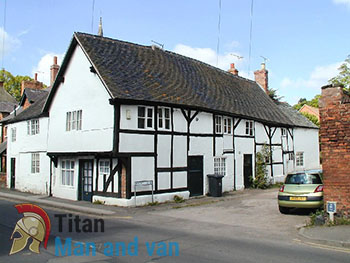 We have put together a team of skilled and experienced packers, carriers and drivers who will meticulously handle your relocation from start to end. Our employees are punctual professionals who will certainly come at the discussed time and more importantly complete your removal with time to spare. Know that to date we have never missed a deadline due to the fact that we aren't afraid of pulling our sleeves and walking the extra mile if the job for which we are hired requires it. So, don't worry about your tight deadline because we guarantee it that we will meet it.
We will properly prepare your possessions
All your belongings will be prepared for transport flawlessly with top notch packing supplies which we have personally tested and which are a 100% eco-friendly and reusable. We use only the finest packing materials and protective gear because we emphasise on safety. Packing services are also a standalone option and we sell and deliver packing supplies at affordable prices. So, if you are having troubles with the packing stage of your house relocation in London, give us a call and watch us work our magic while you are taking care of other duties that concern your upcoming move.
Our fleet of removal vehicles comprises of:
New vans and trucks which are cleaned and fully restock after each moving project
Lorries and Lutons which are equipped with the latest and most accurate satellite navigational systems
Vehicles which have fully secured cargo sections
Bear in mind that we also provide moving van rentals, so if you are handling your house relocation on your own and you are in the need of a dependable vehicle, don't be hesitant to contact us because we can be of assistance. Even more, we will happily lend you one of our drivers if you don't feel comfortable enough driving a fully loaded Lorry or Lutons through the streets of London.
Excellent coverage
For further information about us and our London man with a van services, we invite you to explore our company website in full or to contact us directly via telephone or e-mail. If you opt for the latter approach don't forget to request your personalised free quote.
As you have already understood our company is based in London. The city lies in the southeastern parts of the United Kingdom and is the capital of England. It has a population of over 13 million people and is home to numerous well-known tourist attractions. The present of these landmarks has made London one of the most visited cities in Europe and the world. It is also home to the headquarters of numerous major international companies which explains why the English capital is considered as a globally important economics centre.