If you are a tenant who is moving out of his rental unit know that you can benefit from our assistance in more than one way as we are professional man and van contractors who also provide end of tenancy cleaning services in London as an additional option.
Your project will be handled by the best cleaners
We have a team of skilled and hard working sanitation experts who will clean the property as soon as our carriers have loaded the last of your belongings into the moving van. Our cleaners are experienced professionals who have an abundance of successful sanitation projects under their belts. The size and type of your rental unit won't be an issue as our sanitation technicians can clean any type of property regardless of size and state.
We have provided to our cleaners the best cleaning machines because we want them to be able to reach all corners of your former rental unit and sanitise them meticulously. We firmly believe that our clients deserve the best possible services and we will do anything without our power to provide your London moving out cleaning options that will not only match the demands of your landlord but that will also ensure the safe retrieval of your security deposit. This is why you shouldn't worry about potential damages as our equipment has all the necessary safeguards and more importantly our workers will carefully turn attention to even the smallest details.
No stain can outmatch us
With the aid of our cleaning detergents we are able to quickly and efficient remove resilient stains such as:
Fruit juice spillages
Ink and wine stains
Blood drops
Water spots
Mud marks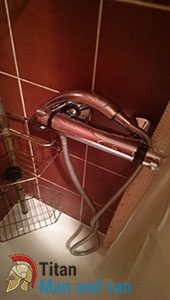 Keep in mind that we work with eco-friendly sanitation products which don't have any toxic or chemical ingredients. We work with green cleaning solutions because they cannot cause any health complications as they don't leave harmful particles behind and more importantly because they are much more effective than their traditional counterparts.
Don't worry about your deadline because we can easily carry out even the most time sensitive London moving out cleaning projects as we are contractors that are never afraid to go to the next level and work round the clock if the job demands it. Keep in mind that we work with a flexible agenda which ultimately means that you can hire on even on a short notice. We have a 24/7 customer support centre, so don't be timid to contact at any time of the day.
We offer very lucrative service rates that won't harm your moving budget in any way. You can see for yourself that we are not only talking the talk but walking the walk as well by requesting a customised free quote by either calling us or sending us an e-mail.
As you have already understood we are seated in London and we operate throughout the English capital. The city is the largest and most populous in the United Kingdom and according to several institutions is the most visited in the world. This is mainly due to the fact that London is the location of numerous famous buildings, monuments and structures.