We may be a professional removal firm that we also offer a large selection of additional services and one of our most sought after standalone options is our delivery service in London. We have the necessary assets and vehicles to easily haul any quantity of goods from one place to another. After all it is not by chance that we are reputed to be one of the most dependable and punctual contractors in London.
The type of your goods doesn't concern us because we can haul anything from large and bulky items to fragile and delicate object to perishable goods. All the items will be prepared for transport by our experienced packers to whom we have provided top notch packing and protective materials such as:
Cardboard moving boxes
Wardrobe boxes
Dishpacks
Mirror boxes
Mattress boxes
Wooden crates
Hardtop containers
Packing peanuts
Bubble wrap
Furniture blankets
Cushioned sheets
Bear in mind that we also sell and deliver packing supplies, so if you are preparing the hauled goods on your own and you are in the need of dependable materials give us a call and we will bring them at a time and place of your choosing.
We can handle any type of delivery project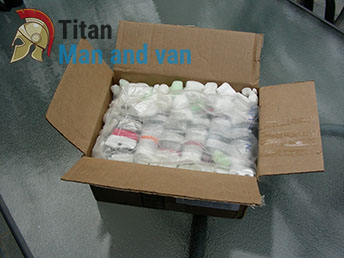 To us it doesn't matter whether you need us to handle a one-time haul or regular deliveries in London due to the fact that we can provide you both services. We have the manpower and resources to easily, swiftly and efficiently handle even the most demanding and time sensitive jobs. Even more, we are contractors that maintain nationwide coverage which means that we can transport or brings goods from anywhere in the country.
Speaking of regular delivers in London know that we work with both fixed and flexible hauling periods. This means that we generally operate on a daily, bi-daily, weekly and monthly basis but if you desired we can customise a delivery schedule that will best suit your needs and personal preferences.
Our prices are reasonable and fair
Titan Man And Van is credited to work with some of the most affordable prices in the city due to the fact that we always form our service fees by taking into consideration the unique parameters of each project for which we are hired. We have chosen this pricing method because:
This allows us to maintain a highly appreciated quality/price ratio
It permits us to fit into any budget and therefore be an accessible company
It allows us to protect both parties from under pricing or overpricing
You can see for yourself that our prices are cost effective by contacting our customer consultant via telephone or e-mail and requesting a personalised free quote. Keep in mind that our quotes for deliveries in London are final which means that we will never surprise you with hidden fees and taxes.
Regular delivery services provided by Titan Man and Van
Our team offers private and business customers access to specialised regular pickup and delivery service suitable for a range of purposes and occasions. The regular delivery option is entirely customisable as per individual requirements. Adjusting the service allows for better coverage and extra value for money.
We have full goods in haul insurance, so you can have the comfort of mind that we will reimburse you in full if we miss a deadline or damage any of the goods during transit. However, we want you to know that to this date we have never activated our insurance policy because we are perfectionists that always turn immense attention to all the details and more especially the smaller ones as they are the key for the execution of a successful job.
Flexible regular delivery service covering all requirements
The regular deliveries by Titan Man and Van are ideal solution for a variety of circumstances, such as:
Fixed schedule delivery of office and household supplies;

Regular business 2 business & business 2 customer deliveries

;
Variable schedule pickup and delivery of goods and supplies;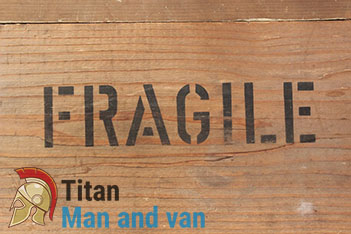 If necessary our drivers and technicians can perform additional packing or inventory of items prior to handling and transportation. If our teams are to present copies of paperwork such as packing lists, manifests etc. please make those available as point of pickup.
Regular delivery service is available seven days a week, under flexible hours.
Professionally tailored regular deliveries that will cover all your needs indeed
Over the years we at Titan Man and Van have had the chance to work for a very wide range of clients who needed assistance with their regular deliveries in London. From big companies to individual sellers with extensive internet business, we are capable of covering the needs of everyone. As it is evident from the outstanding customer reviews which we receive on a regular basis, we are diligent, have professional attitude and never give up when we are commissioned to live up to the highest industry standards.
Our company is based in London the capital of England. The city is known to its numerous entertainment venues and vivid nightlife. The Victoria Palace Theatre is one of London's most emblematic venues. It lies in the City of Westminster and was established in 1911. It is a three level theatre with a capacity of 1.550 seats and is classified as a Grade II* building.
London is divided into Central and Greater London. Additionally, the River Thames separates the metropolis into two further parts – North and South. London has quite a few things to boast about, including the first Underground train network, The Tube, which is still the most important part of the metropolitan transportation system.