People are often times extremely reluctant to commit home and office relocations because of the trouble one must go through to even get started with it. We here at Titan man and Van however are ready to help you with any of our removal projects in South London.
What do we offer?
Unlike our competitors we take great pride in our work. We have been active for many years at end now and we have lived through the huge rise in popularity that the industry saw recently which led to the birth of countless inexperienced and all around incompetent amateur companies, offering relocation solutions in South London.
We aim to be a cut above the rest and make no compromises with the quality of our service. A long time ago we adopted a policy of always providing our clients with exactly what they want and need, which has since earned us hundreds of happy customers, eager to take advantage of our work again.
What makes us so good?
With a reputation like ours there is very little room for mistake. We take every possible precaution to be impeccable when doing our job.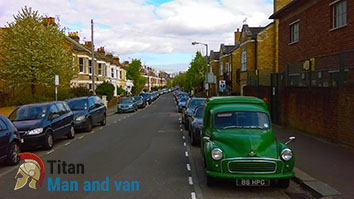 Titan Man and Van's team consists entirely of seasoned professionals who share hundreds of successful relocations behind their collective backs. They have all started however as young men and women who demonstrated skill and responsibility when we first hired them. All of our licensed removal specialists undergo a strict training, which makes them proficient not only at offering man and van services in SE and SW, but also at a variety of different related services.
Best coverage in South London
With our packing solutions you will never have a problem
You should have in mind that packing is one of the most important parts of your upcoming relocation. That is why on top of the man and van service in South London that you can expect from us, we have made sure to make packing solutions available to all our clients. We can either send a team of capable packing specialists to your place to take care of the job at hand, or deliver high quality supplies on a reduced price, as well as free advice so that you can handle the job on your own.
Our attitude towards our resources is likewise strict. We always buy the best supplies and vehicles possible. This way our packers make sure your items are safe in high quality biodegradable packing, while our drivers deliver them intact and in time using our flawlessly maintained fleet of lorries and lutons anywhere in the region.
What else do we offer?
Like we mentioned before, while we are most capable of completing your man and van solutions in South London, we are also quite adept at providing a myriad of supplementary services. If you have chosen to work with us for your household or commercial removal, you might want to take advantage of our:
Moving services
Packing Services
End of tenancy cleaning services
Rubbish Removal services
For businesses of any scale we offer storage services as well. They are climate controlled, extensive and have 24/7 security (provided by security personnel as well as CCTV cameras). All of these services can be used in conjunction with each other. This way you save a lot of money, time and stress, as the same excellent team is handling all of them.
Simple A to B move solution
How do you hire our services?
This is beyond easy. You can book us to commit your relocation project in SL today by simply dialing our phone number or via the Internet. You get:
24/7 Work times
Full Insurance
Custom, individually calculated rates
Most reliable man and van options in South London
Our man and van services are fully insured because we are attentive contractors and we never take unnecessary gamble with the belongings of our clients. We rather have all angles covered than start looking for solutions once the damage has been done. However, this shouldn't mislead you because we have managed to maintain a 0% accident ratio throughout the years due to the fact that we always operate with utter diligence and attention to detail. We also have full goods in transit insurance because we realise that the transportation stage of your removal in South London is beyond any doubt the most tricky and risky part of your relocation.
People come to us for the best prices
The man and van in South London services that we offer come with full coverage of all boroughs and districts in these parts of the capital. Due to the flexible schedule we all operate on, you can book us last minute, or even for the weekend or bank holidays. If you want the best value for money on the market, we'd suggest you check out our special mid-week discounts. If you hire a South London man and van from us for the period between Monday and Thursday you will get a huge cut off the overall price, so that no unnecessary strain is put on your budget. Sounds like a great deal indeed, right?
One of, if not the most influential cities on the Old Continent is London. With its rich history, dating back all the way to prehistoric times, it has left its cultural mark on the entirety of the western civilization. Today it stands as the biggest city in the EU, with its eight and a half million inhabitants, that are constantly growing and are of various cultural and ethnic backgrounds. Principally London is divided into two major parts: North London and South London, the latter of which contains the boroughs of Bexley, Bromley, Croydon, Greenwich, Kingston, Lambeth, Lewisham, Merton, Richmond, Southwark, Sutton and Wandsworth.
South London is the area of the English capital which is situated south of Thames River. It spreads over an estimate of 250 square miles and has a population of approximately 2.9 million people. South London is home to some of the city's most acclaimed and well-known monuments, buildings and places and interest. The Croydon Airport is one of the area's most visited tourist attractions. Before its closure during the late 1950s it was London's main international airport. The Rose Theatre is another popular landmark. It was founded in 2008 and has a capacity of 899 spectators.
One of the best places to live in South London is the town of Croydon. Located in the eponymous borough for which it acts as an administrative and commercial centre, Croydon is where most of the major South London businesses and cultural institutions are based. Well over 50 000 people live here as of today. Crystal Palace F.C., one of the most famous London football clubs is based in the nearby South Norwood.