There is one thing that is extremely crucial to the success of a business or the wellbeing of a household and that is its location. Instead of settling for some subpar place you can take advantage of Titan Man and Van's professional man and van solutions in West London.
About our line of work
As our day to day life becomes more frantic and active every single day we feel the need to move around grow stronger. An ever greater number of people choose to move their office or their house every day and this leads to the constant growth of the relocation industry. Unfortunately for some of those people, they fall prey to one of the side effects of this rapid expansion, and namely: inexperienced and unmotivated firms in there only for your money.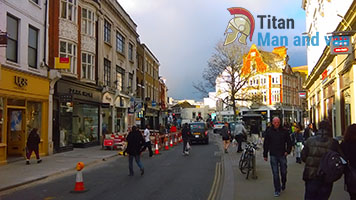 We here at Titan Man and Van are not at all like them. We have a well established reputation of reliability and punctuality that we have gained during the many years when we have been active. Our experience, resources as well as thorough knowledge of the field permit us to offer a quality of service matched only by the largest names in the industry.
What sets us apart?
There are three factors that influence our work the most and we feel the need to maintain all of them in perfect shape so we can carry on keeping our excellent level of professionalism. Those are:
Our team
Our materials
Our vehicles
When we set out to hire new employees we have the objective of letting only the best possible have a shot a joining our team. Whether we have a lack of packers, movers or drivers they all equally must pass a very strict selection process, followed by an ever more demanding training regimen. This is done with the intent of having a crew capable of all kind of removal solutions in West London.
Hire man and van anywhere in West London
We understand the importance of preserving the environment. We are even more keenly aware of the need to preserve your items when we handle them as well. This is why we use only the best available packing materials for our relocation jobs in W.
Punctuality is key in our field. Thankfully for our clients we have the best fleet of lorries and loutons regionally, capable of making rapid and entirely safe deliveries anywhere in W.
And much more
We are mainly suited to provide man and van services, however all related to relocations services are within our capabilities as well. The extensive training of our workers include the skills necessary to complete every single complementary service you can think off. We offer packing deliveries, storage, single item removals and much more.
A highlight and often used feature of our supplementary services is our rubbish removal service, suitable for both household and various types of businesses.
Reaching us
Hiring us is beyond easy, all you need to do is call us or book us online. In doing so you get:
Full insurance
Flexible working times
Affordable pricings
Best prices in West London
We form our moving fees by taking into consideration the one of kind parameters of each removal projects in West London for which we are hired. We use a flexible pricing system because it permits us to accommodate tight budgets, maintain an excellent quality/price ratio and gives to our clients the peace of mind that they are being reasonably charged for the man and van services in West London that they need. Keep in mind that we also offer special discounts to loyal customers and clients who opt combine our moving options with our additional services. Feel free to call us and ask for a free and final quotation.
London, in some form as a settlement has existed for millennia. While it was not until after the conquest of William I that it became relevant as it was the seat of the throne, the city has been growing more prosperous and influential ever since. Today it is the largest city in the European Union with its multicultural community of over 8 million people. Since London is such a vast city, for many purposes it requires to be split in several sub regions: One of the more densely populated is West London.
West London is a sub-area that is located west from the ancient City of London. It is home to numerous world famous landmarks such as the BAPS Shri Swaminarayan Mandir. The Hindu Temple is situated in the district of Neasden and dates back to the mid-1990s. It is built via traditional methods and materials and at the time of its inauguration was the first traditional Hindu Temple in Europe. Wembley Stadium and Wembley are two more high places of interest which lie in West London. The former is among the largest sporting facilities not only in Britain by Europe and the world.